How to Get Rid of Old Carpet When Getting a New One Installed
When you get a new carpet, you usually have to get rid of the old one. In addition to the old carpet, you'll probably have old underlay and gripper rods to get rid of, as well as offcuts and packing from the new carpet. Donation and reuse, pickup by the merchant who sold you your new carpet, removal by a fitter, paying for a Glasgow City council and surrounding authorities bulky garbage collection, bringing it to the dump, leasing a skip, or utilising a waste disposal firm are all options for disposing of or recycling these items. This short carpet disposal how-to guide is intended to assist you in determining which choice is best for you when getting rid of unwanted items.
Ask the shop whether they will dispose of it for you.
The most convenient way for most people to dispose of their old carpet is to have it removed by the merchant that sold them their new one. Most carpet shops provide some form of service, although prices and what is available vary greatly. Some stores, for example, would only accept offcuts and packing from the new carpet but refuse to accept old carpet. Most only provide the service to paying consumers. Make it clear whether the service covers upgrading the old one or simply collection and disposal.
Carpet fitters – check with your carpet dealer if they will dispose of your carpet.
If the shop where you purchased your carpet does not provide a disposal service, your fitter will usually remove your old carpet for a cost. However, make sure they have a waste carrier's licence, as it is illegal for them to carry it away unless they are officially licenced by the Environment Agency.
According to Job Prices, your carpet fitter should charge a disposal fee of between £2 and £3 per square metre of carpet and underlay. It is ultimately the fitter's decision whether they would charge per square metre or for the entire job. Disposal is frequently included in the price of the uplift (as it is with retailers), so make sure that you discuss this with your fitter and clarify what the cost includes.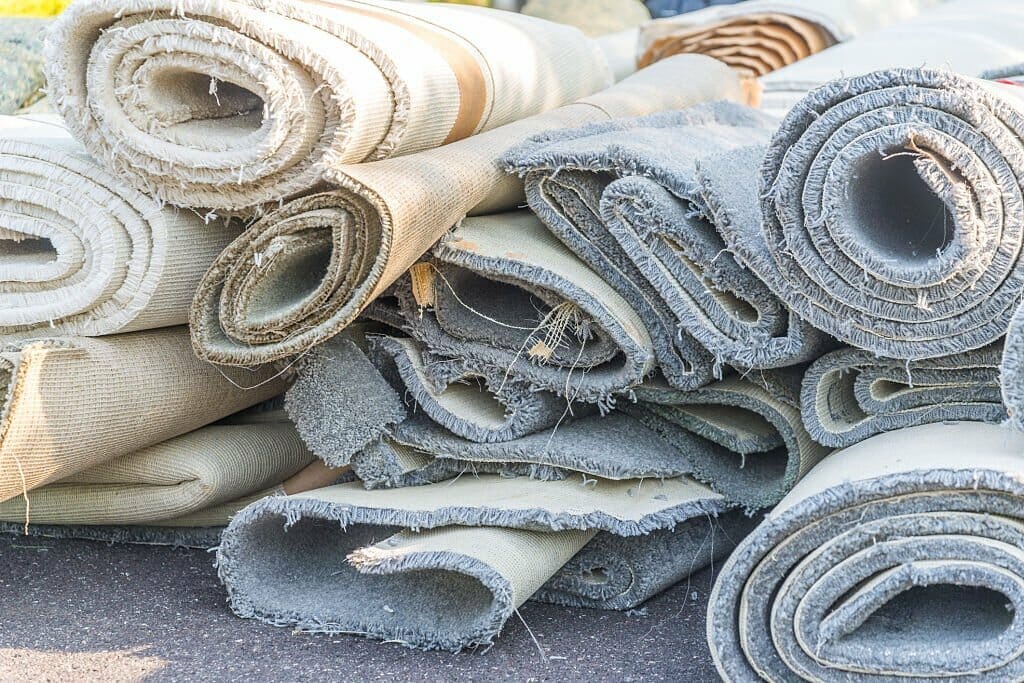 Reuse – how can an old carpet be reused in my home (as opposed to how can it be reused by others and how do I get it to them)?
You might re-use your carpet for gardening, rugs, animal bedding, offcuts, or gift it to someone else. However, because old carpets can be unpleasant and unappealing, fresh offcuts are considerably more likely to be reusable. Furthermore, the chances of someone wishing to buy and re-use an old unclean carpet are slim.
Websites like Freecycle and charity shops are fantastic places to give your carpet away for free. Carpets in a good state can also be sold on platforms such as Facebook Marketplace, eBay, and Gumtree. If it's in good condition, buyers will typically be willing to travel to your home to pick it up, so if you don't mind having strangers in your home, you may consider this as an alternative option. However, be prepared for them to be uninterested once they see the carpet in person.
Carpets may also be re-used in the garden, and it does not need to be in good condition to be utilised for this purpose. You may use it to keep weeds at bay by turning carpets upside down and covering it with bark mulch. You may do the same thing around vegetable patches. If you don't have a green thumb, you may ask local groups if they'd like to utilise your old carpet.
If your carpet is in good shape, you may be able to reuse it in your home. You can make it into a mat by cutting the carpet into the desired form and using it as door mats or runners. You may even hire a carpet whipping service to add edging for a more professional effect. According to the website of Battersea Dogs, they are continuously looking for cat scratching posts and carpet squares for cats and dogs. To make your own scratching post, simply staple or glue some carpet to a pole.
If you have leftovers, cut them into little squares to place beneath furniture feet to protect the new flooring. If they are offcuts from a new carpet in your home, you may intentionally stain them to see what works best for removing severe stains.
Can I take carpets to the local household waste recycling centre instead of the council dump?
If you are a homeowner, another choice is to dispose of carpet at your local recycling centre, as most tips are entirely free. The main disadvantages (if you have a vehicle) are that you may have to make multiple trips and that you may end up with a load of carpet fluff inside your car. Furthermore, if you live in a rural region, the nearest tip may be pretty far away, making it easier to simply pay someone else to dump it for you.
The website recycling.co.uk claims that most recycling centres do not accept carpets, although our own study of council/tip websites reveals otherwise. However, we recommend double-checking with your own just in case.
Businesses, unlike homeowners, must either pay to use the council tip or are barred from using them at all.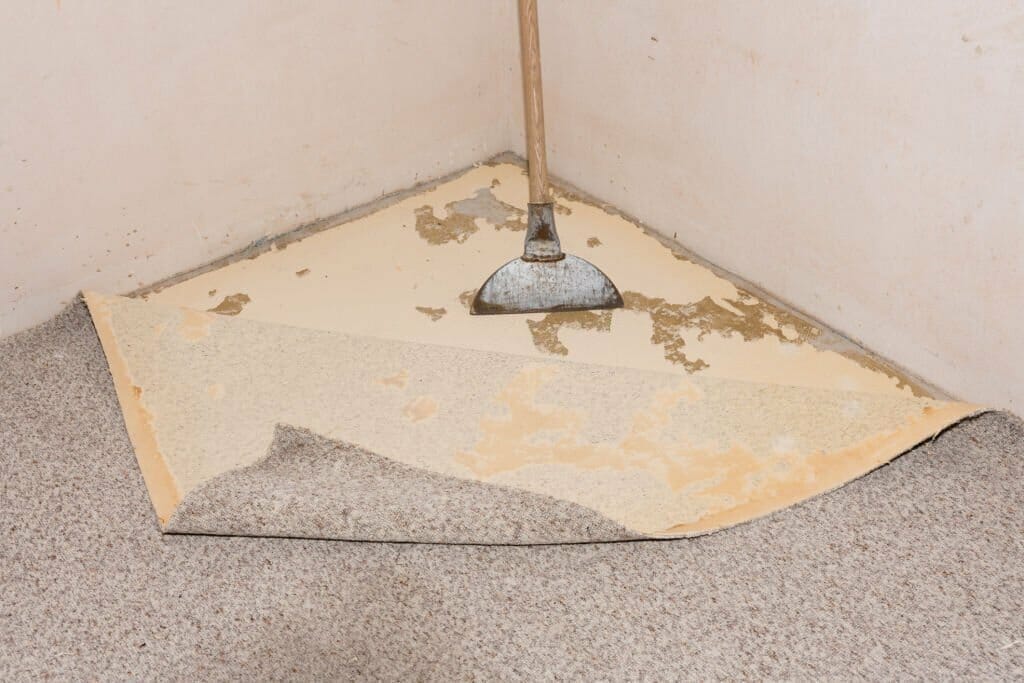 Will the council accept carpet as part of their residential bulky rubbish pickup service?
Businesses cannot use the council's bulky waste services, these is solely an option for homeowners. Some local authorities in Scotland do accept carpets in their bulky waste collection service, while others do not. Carpet, for example, is included in Lambeth Council's bulky rubbish collection for homes. Check with your local council to discover what services they provide. Charges vary by authority but are often just as expensive as employing a private waste disposal service.
Can I put a carpet in a skip rental?
Hiring a skip is one option for getting rid of old flooring materials if you have enough carpet to fill it. Prices vary depending on the size of the skip, the postcode, and whether the skip is on or off the road.
Hire a rubbish removal company to remove your carpet.
Using a junk removal firm like Jettison Express to remove your old carpet is frequently a less expensive and time saving option over leasing a skip. Unlike skip hire, you don't have to guess the correct size of skip needed ahead of time, junk removal firms they can collect from anywhere on the premises and will have large vans to handle any load – this is also very useful if you live in a home that doesn't have enough space for a skip, such as a flat. Check out our waste clearance price guide for additional information about man and van rubbish disposal in Glasgow city council and beyond.
Carpet removal – DIY, carpet fitters, or waste removal company
Before you can dispose of your carpet, you must first remove it from the floor.
It is relatively simple to remove the carpet yourself. Only a few tools are required (utility knife, pliers, crowbar, and gloves). Pull the carpet up, cutting it into strip portions as you go, then rolling and duct taping it so it's easier to transport out of the room. When removing the underlay, use the same steps. Finally, slide the crowbar underneath with gripper rods to lift them up. Read our comprehensive guide to removing your carpet for more information.
Alternatively, if you don't want to get your hands dirty, you can always hire a professional to do it for you. Ask your carpet fitter if they can remove your old carpet; they're usually willing to do so for a fee, and they may even include carpet disposal in the price. You can also ask your junk collection contractor (may encour extra charges)
If the carpet cannot be utilised, it is either recycled or disposed of. However, recycling old carpets is difficult since the backing is difficult to separate from the carpet pile. Furthermore, it is difficult to recycle fabrics used in carpets, such as wool and nylon. Because carpet padding is comprised of foam, it is considerably easier to recycle, and many more recycling centres are willing to accept it. Carpet Recycling UK is a non-profit organisation dedicated to minimising the amount of carpet disposed of in landfills. Their website contains a wealth of further information and guidance on carpet recycling.
View Some Of Our Junk Clearance Services
House Clearance Prices Glasgow